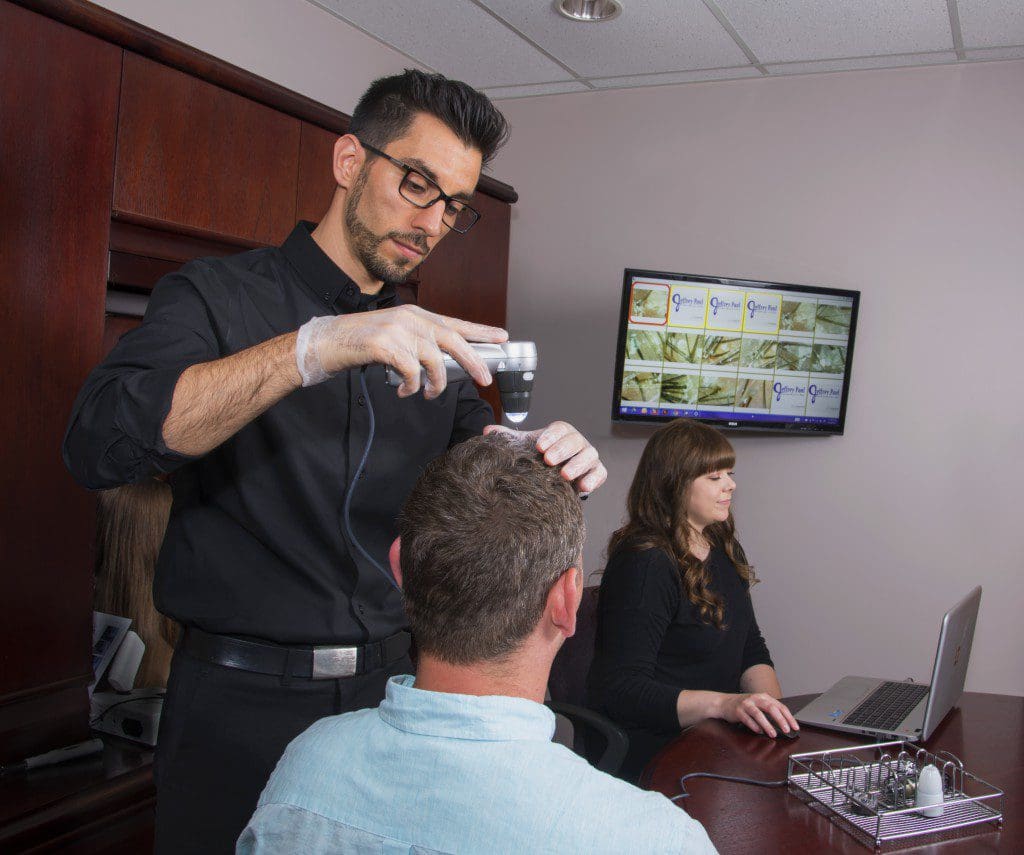 Your itchy, flakey head probably means you have dandruff, but do you really know how to eliminate it? Emmanuel Paul, of Jeffrey Paul Hair Restoration Center, has the answer.
The image on the screen reminds Mimi Creative Director Lynn Margalit of plant life in the winter. In reality, however, Lynn is viewing a 200x magnification fo Alex Aella's scalp — a field of snowy-looking dandruff infiltrating a forest of hair. Alex, a 35 year0old firefighter and father of two, is convinced that his severely itchy head is not caused by dreaded white flakes. His head, he believes, isn't dry enough to produce dandruff. But Emmanuel Paul, a certified trichologist at the Jeffrey Paul Hair Restoring Center, in Fairview Park, has a feeling that he's going to find the real answer as he begins a thorough examination of Alex's hair and scalp.
A series of tests using proprietary tools confirms his suspicion. Alex not only has dandruff, he has an extreme case of it. And, Emmanuel says, he has super oily scalp along with it.
"People associate dandruff with dryness," Emmanuel explains."In reality there are two types of dandruff, which come from dry as well as oily scalps. Most people have dandruff to some degree. That's why Head and Shoulders is the biggest selling shampoo in the country." Unfortunately, Emmanuel reveals, that popular product may hide the problem but it doesn't fix it.